Anthology by Friedrich-Ebert-Foundation (Friedrich-Ebert-Stiftung) "Right-Wing Extremism in Europe"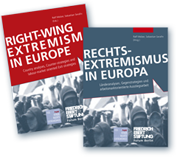 The upcoming anthology "Right-Wing Extremism: Country Analyses, Counter-Strategies and Labor-Market Oriented Exit Strategies" was presented Monday 27th May 2013 in Berlin in the framework of the conference "We are the others".
Martin Schulz (President of the European Parliament) and Cecilia Malmström (European Commisssioner for Home Affairs) delivered the keynote speeches.
Presentation of the anthology at the conference
"WE ARE THE OTHERS"
Interview: fighting right-wing extremism, with Cecilia Malmström, EU-Commissioner for Home Affairs
Musical Finale with Chagiga Acoustic